The Blackfield Project
Steven Wilson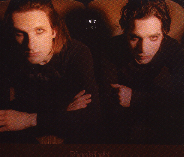 Aviv Geffen
The exclusive Tinto Brass reviews of Blackfield
Review one by Alex Cagli
Review two by Motti Gini
The lyrics quoted in those reviews might be inaccurate, since we misheard lots of words.
---
Blackfield EP – The downward spiral
The Blackfield EP is an extraordinary synergy between two talented musicians and song writers.
Aviv brings his melodic skill and moodiness, and Steven brings his depth and wonderful arrangements, the result is unique.
Chris Maitland is also very present, and the three of them sing together on some parts, with their incredible talent for second and third voices, added by the multi-layered production of Steven Wilson. It sets perfectly the atmosphere with the first track, Open Mind, which begins softly and hypnotically, and burst out in between verses with furious guitars by Steve and strident keyboard by Aviv.
Aviv and Steve exchange instruments, depending on the numbers, it can be either one or the other at the keyboard or playing bass.
The title track starts with a little piano riff, probably played by Aviv, followed by a Maitland explosion and Steve's sustained guitar and tragic vocals. As usual, the Steve and Chris vocals are reaching great heights together. On the background, the ear of advanced fans will hear strange and threatening whispers.
Then, on the base of an enhanced acoustic version, Aviv sings his first lines, and it's to cover Porcupine Tree's Feel so low in Hebrew. They eventually sing together the last part, and in English. This version, less sophisticated than the Porcupine Tree's one, is only more miserable, and from there on, the EP is taking the downward spiral to the depth of depressing states. But as Steven likes to remind, the saddest songs are also the most beautiful. Here comes beauty, folks!
The hole in me is sung in English by Aviv Geffen. The lyrics are the expression of a profound sadness, coupled with an impossible wish to kill all the loneliness. The three musicians sing together during the choruses, and the eastern feel of the rhythm certainly has to do with Aviv's song writing.
Pain goes even deeper in depression, giving a feeling of ultimate hopelessness, where the only thing to do is to get used to the devils and nightmares. Steve is probably on synths, playing spacey arrangements and providing ghosts with them and light guitar, Aviv singing it.
But the summit of beauty is reached with the last song, Hello, with its simple piano chords and its Gilmour-like guitar, so touching, which can progressively lead you to cry out all the tears of your body, those kind of tears you like to cry. The amateurs of Marillion's Great Escape or of Pink Floyd's Comfortably numb solo will know what I'm talking about.
And the lyrics, apparently about eternal absence of loved ones and irreversible passing of time, can only touch you in the deepest of your heart by its universality.
I can only hope with all my heart that they will release this EP in the end, because it's a big loss for all of you people just to read this and not to listen to it…
by Alex
---
Steven Wilson and Aviv Geffen, 2001
This excellent EP, is performed mainly by Aviv and Steve (Hey, remember that "it's Aviv and Steve" remark that SW said on stage here? That was a funny one).. they both play all instruments except for drums played by the Master himself, Chris Maitland. Although I understand that there are definite plans to release the EP, the plans are still not completely clear as to the exact date. On the other hand, I have read a short interview with Aviv on our local paper (Ma'ariv) where he is quoted saying that the EP is to be released during the Jewish holidays, sometime around September. But I guess all these are speculations. Only as you hold the round treasure, guys, will you know where my next words are coming from. Wait for it - it will be worth every second you have been waiting.
A general note on the whole EP. Sometimes you hear music on the radio and you couldn't care less. Sometimes your kids get all amazed from a song, and you just can't see what is so special about it. Sometimes you hear a loud pumped-up bass knocking on some driver's head as he passes next to you with his car, and you're happy both of you are still breathing. Sometimes you do not understand why a single brush stroke made by Picasso on a canvas attracts so many people's attention, look at it, and see in it all the things that aren't there. Well, my friends, I guarantee you that with this EP, you'll have no doubt – a masterpiece, a synergy. There is something about Steve, and there is something about Aviv, and there is something about their collaboration that will touch you, make you focus on their music, and then on yourselves, and will lift your souls to those heights and back into the depths of your hearts. Music can do that. And Steven is an expert. Almost 23 minutes that will make you aware of yourself and your relationships with others.
Open Mind – 3.54
Here's a song from an open mind
I give it to you
Because I can.
And if you're thinking that it's not that kind
It's cause my mood swings
Make me feel ashamed.
It can pass the time….
Steven's voice is mellow, dreamlike, as is his guitar sound. A blend of acoustic guitar and a soft fender that joins in between the lyrics. Some amazing harmony of Steven's voice doing first, second, and third voices. Then some gentle piano notes a-la "Pure Narcotic", an increasing "aaaa…." as in "access denied" – some more few seconds of this merciful dreamscape and then the whole band joins in with a heavy line that will really blow you.
A girl with eyes that see a hundred years
Half remembered -
This is my dream.
Spinning out from where the whole appears
I've never seen her
But I've got photographs
It can blow you….
Next verse. You hear on the background some kind of echo that sounds like a new British Railway train driving away. A dream. For those who look for really small details in production, this is a high point.
My tear falls from a porcelain sky
It won't make you wish
And it won't make you high
High… high… high
The third verse is another soul-up-lifting section just before the whole band bursts in again to coda.
The metronome in the background that was left there, maybe in purpose? Under Hypnosis.
2. Blackfield – 4.59
The song starts with the main line played on piano by SW. Then all the band bursts in, with an up tempo that makes you want to dance. The bass line is superb. Reminds me a little like the bass line on "where we would be" or something.
Splinter cracks
Summer tracks
Paperbacks
We found them all in the
blackfield…
In the shade
Whistle blades
Single face
…………In the
blackfield…
She wants to stay
And talk all day….
Just when you think the song is over, it picks you up again to the fade-out with a slight taste of what a SW solo can be like. I'd swear the production guys must have said "five minutes is enough" and faded out the solo. I hope in the live version we'll get to hear a real long solo here – the potential is clear. I think it is definitely the most radio-friendly song on the whole EP, potential for a chart single.
3. Feel so low – 3.45
Aviv opens the song with a translation of the lyrics into Hebrew. His voice and performance fits the sad, melancholic atmosphere of the song. Aviv sounds almost crying, with his voice gently trembling as he goes along. This is a stylistic change for a singer who used to scream almost to the point of losing his voice strings. Also, something in the way this version is played makes it even more melancholic than the original. Maybe because it is much less elaborated than the original, ending up almost being a good studio-acoustic version. Then Steven joins in, on the second verse, and the chorus is performed by both together. Hopefully, this time without Aviv singing out of key as he did on the Tel-Aviv gig. And gladly, it is Aviv who changes into English and not Steven into Hebrew. Although I admit it would have been funny to hear Steven breaking his teeth trying to sing in Hebrew. Which in turn would have sounded antithetic to the song's lyrics. Those of you familiar with Hebrew will clearly hear Aviv at the end of the track saying "Toda" which means "Thanx".
4. The Hole In Me – 3.01
This song is more reminding some Israeli music, performed mainly by Aviv, and Steven contributing to the chorus. I think it is a 5/4 but I am not sure. The lyrics seem a little forced, but I will leave that for you to judge. I love here the sound of the keys, and the drumming. I don't know if the keyboard is plain piano or some synthesized sound, but it has an ancient feel to it, almost antithetical to the drumming which sounds as it was a programmed loop.
The hole in me
That never sleeps
Born with me
It's killing me
What have I done
Treat me tonight like a movie star
Who'll never die
Always surrounded like girls like you
King of the loneliness
And then Steven says his part…. But with the guitars.
5. Pain – 4.02
Ok. This is one hell of a track. Aviv is doing most of the singing, which allows Steven to pay more attention to the melodic parts, to the playing. Here Steven is, to my opinion, displaying his virtuosity as a master composer. What amazes me more than anything else – is the fact that this song could have so easily been "just another song". And it isn't. It is very special. It is a breeze, which turns into storm, and as it passes by you – it fills your lounges and caresses your heart. It is a sad song. About longing for a meaningful relationship, a lost companion. Certainly for me the strongest as I can feel the same on the eve of my departure to the States. Leaving so many dear and close friends is not an easy task.
While I'm melting in the rain
Deep in pain
She is so far
Will we ever meet again?
As friends after so long…
Just a word of caution: If you really didn't like "Stars Die" – do not listen to this song. But if you did, and you thought there was something missing, like a sudden "shesmovedon" solo towards the end of the song – then don't just go and buy this CD – get your feet down, and simply run to get yourself a copy!!! You won't regret it.
6. Hello – 3.06
I bet you that most of us will be compiling this one together with songs such as "disappear" or "the rest will flow". The Floydian solo will not make you forget who is playing here, who is the mind behind this really musical masterpiece. It is not just an EP, it is an EEP. I just wish it was an ELEP, that is – an "extra large extra play".
by Motti Gini