lyrics
מילים
Spiral Circus - Live (1993)
Spiral Circus - Live (1997)
(Delerium cassette) deleted

48 minute cassette containing desk recordings from the first two Porcupine Tree live performances plus tracks from a Radio One session - given away free to information service subscribers during the period 93-96.

SIDE A
Burning Sky - BBC / Borderline, London (11.02)
Voyage 34 - Borderline, London (5.32)
Always Never - BBC (6.28)
SIDE B
Radioactive Toy - High Wycombe (9.58)
Up the Downstair - High Wycombe (7.15)
Not Beautiful Anymore - High Wycombe (8.58)
The 1997 version is a limited edition vinyl reissue of live cassette500 copies only.

Due to a printing error the credits are incorrect on the Spiral Circus LP sleeve. They should read :

(1) First half from BBC live broadcast, 6th Dec 1993 / Second half from the Borderline, London, 7th Dec 1993

(2) The Borderline, London, 7th Dec 1993

(3) BBC live broadcast, 6th Dec 1993

(4,5,6) The Nag's Head, High Wycombe, 4th Dec 1993
---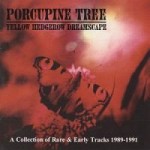 Yellow Hedgerow Dreamscape (1994) (2000)

2,500 copies only. Limited edition collectors release containing the remaining material from the early cassettes that was not included on "On the Sunday of Life..."
Mute (8.05)
Landscare (2.58)
Prayer (1.38)
Daughters in Excess (6.34)
Delightful Suicide (1.04)
Split Image (1.52)
No Reason to Live, No Reason to Die (11.07)
Wastecoat (1.11)
Towel (3.35)
Execution of the Will of the Marquis de Sade (5.07)
Track 11 (2.59)
Radioactive Toy (5.57)
An Empty Box (3.12)
The Cross/Yellow Hedgerow Dreamscape (20.44)
Music for the Head (1.23)
The version of "Radioactive Toy" here is the original cassette version as opposed to the re-recorded and extended version on "On the Sunday of Life...". "Mute" is a newer mix to the one on the cassette. "An Empty Box" had not appeared on either cassette but is another recording from the same period.

The 2000 version is a luxury yellow vinyl issue in gatefold sleeve of archive material from 1984-91 (originally released on CD in 1994). This version contains expanded sleeve notes, superior sound quality and one different track. Limited edition of 1000 copies.


"The Cross" which appeared on the original CD edition replaced by the track "Out" (from 1987).