The Blackfield Project
Steven Wilson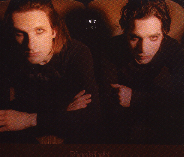 Aviv Geffen
Open Mind

Scars (Tsolokot)
Summer
9th March 2003
You can listen to songs snippets from the upcoming Blackfield album on the official Porcupine Tree website .
The direct links to listen to them (you'll need Real Player) are UPTHERE.
What used to be the BF EP is now apparently only "demos" because they have undergo some change or another in the form of overdubs and the like. Also there is no official confirmation about the "13th song" that Aviv wanted to add to the project ("Where Is My Love"). Prospects are that the album will be released May/June 2003 but this is not a certain date, and there might be already a delay towards the summer. The recording of the music is practically behind them, and now it is only the last production details that we are waiting for. The Hebrew/English version of "Feel So Low" is not going to be released and is no longer considered part of the BF project. However, given the amity between Aviv and Steve that we witnessed in the special evening of our group with SW on the 24th of Jan, 2003 -- it seems pretty obvious that this project is going to be released very soon, even if this release is somewhat delayed again...
9th February 2003
We heard rumours that some songs will feature a string quartet, and Gavin may be asked to play additional drums. Another rumour that is spinning around is that Aviv wanted to add an extra song to the album at last moment. If this is correct - we hope it will not push back the release date planed for the album.
21st January 2003
Blackfield, the SW/AG project, (read below), will now be a full length album and will be released very soon under the Helicon label.
The first song to be broadcasted should be "Hello"
According to the official site, they will perform an english version of Aviv's song, "Tsalakot", under the name "Scars".
They also come with the following artwork: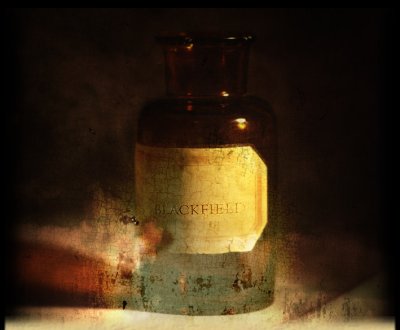 The story of the Blackfield EP

(as in August 2002)

So... Is this going to be a legandary project never to be released? We hope not! We heard so many rumours about it's release....

Let's start with the facts!

In November of 2000, Porcupine Tree visited Israel for the first time, with the push of one of their most famous fans: Aviv Geffen

They played three nights, two in Tel Aviv and one in Haifa, and Aviv came on stage to sing part of Russia on Ice and Feel so low with the band.

There was some kind of chemistry between them, resulting in a collaboration in a joint independent musical project, under the label of Aviv: Helicon/Universal Records.

Aviv, Steven and Chris met in studio in Tel Aviv, at Hook Studio, and recorded 5 of the 6 songs of the EP. And in April 2001 (or was it March?), they met in a fine North Essex countryside studio in England to record one more song, 'Hello'. Chris also overdubbed there his drums. This is Mark Daghorn and Tony Turrell's studio, by the way. They are the ones who made the remixes album of Marillion "Tales From The Engine Room" and composed most of Fish's 20 minutes-or-so piece "Plague of ghosts".

Blackfield was ready, resulting in a 6 tracks EP, with Steve and Aviv playing every instruments, and Chris contributing his unique drumming on some of the songs.

Here is an extract of Mark's diary about them going back to the studio in June for tracking the CD:

I had worked with PT main man, Steven Wilson before, on Fish's Raingods With Zippos album and got on well with him but I hadn't met drummer Chris Maitland before. Chris is a truly lovely man and one of the most exciting drummers I have ever heard.(...)

Steven Wilson returned with Israeli singer/songwriter Aviv Geffen and drummer Chris Maitland to track their Blackfield album. Aviv is another wonderful person and their stay was all too brief.

The official PT site then announced a release for the summer, which never came through. Aviv then told Ma'ariv that it was due for Hannukah, but once again, this never happened. Steve then decided to collaborate further with Aviv, mixing and producing his solo album, and we didn't hear about Blackfield anymore, until late 2001. It was then announced that a full length CD was due for 2002, also called Blackfield.

On the 29th of December 2001, at the Hangar in Tel Aviv, a large crowd came to see a special 10 years of career anniversary concert by Aviv. Among the special artist guests that night, were Israeli rocker Berry Sakharof and... Steven Wilson! Steven sang an english version of Aviv's poignant song "Scar", "Tsalakot", which is also Steven's favourite song of Aviv Geffen. Then Steven performed an exceptional version of Waiting, with piano and acoustic guitar, and the two of them joined forces to sing Feel so low, for the first time live in hebrew, and part of the Blackfield project.

2002 is now well advanced, Aviv released his solo album in July, and there are still no news of a release for Blackfield... We will post more news as we receive them!

by Alex

Go to the tracklisting section